What Does Dead Sea Salt Really Do For Your Skin?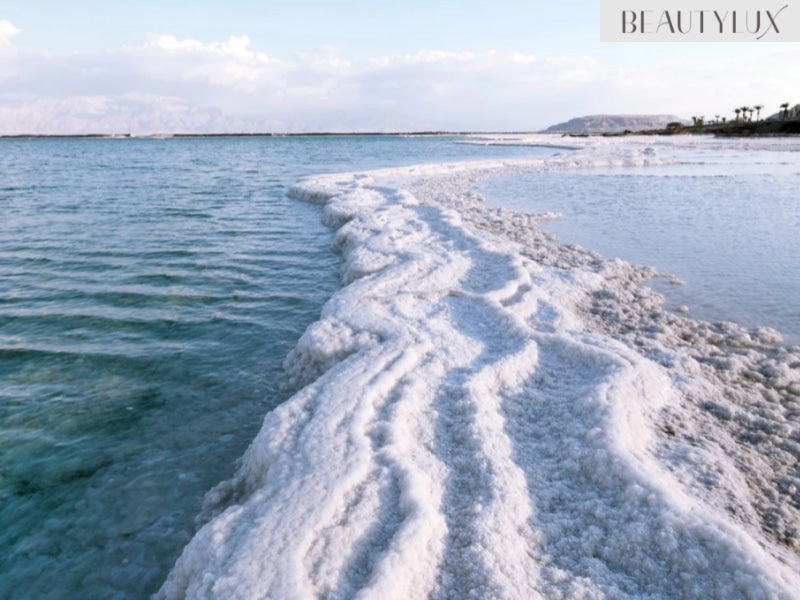 If you've ever been to the Dead Sea, you know that it's a magical place. You can float effortlessly in the water, and it feels like nothing else on earth. The Dead Sea is a salty lake located between Jordan and Israel,  famous for its high concentration of minerals like magnesium, calcium, and potassium, all of which are remarkably beneficial to your skin.  
The Dead Sea's Skin Healing Properties
Sure, lots of places have mineral-rich waters, but none of them quite match the Dead Sea in terms of its high concentration of minerals - and there's a reason for that. The Dead Sea has a richer mixture of nutrients - about 50% of Dead Sea salt is magnesium, comparing to sodium chloride salts found in most of the seas. 
Dead Sea salt itself is a powerful natural ingredient. It is not only good for your skin, but also for your health. This type of salt is rich in minerals and has many therapeutic properties, helping soothe skin conditions like eczema, psoriasis and acne, as well as used as an all-over natural body scrub.
The salts in Dead Sea water are widely documented to be antibacterial and antifungal. This means they can help treat infections or even just prevent them from developing in the first place when used topically on cuts or scrapes that may be prone to infection (like after shaving). 
Beautylux Dead Sea Mineral Products
Exclusively available in Australia and via Beautylux, our aromatic and invigorating Jericho, Jericho Premium and Talia Heaven's Dew body scrubs and exfoliators are the perfect way to get started on your skincare journey. Our Australian customers continuously marvel at the effectiveness and difference these products make to their skin in comparison to other mineral scrubs. 
Introducing Talia Natural Deep Treat, this is a range containing 100% original Dead Sea salts with nutrient rich minerals to enrich and awaken the skin. Like a home spa treatment, the range is designed to transform any mindset and reset the body. The Talia Natural Deep Treat Mineral Soft Scrub - Cocoa Lavender, made with Willow bark, a natural source of salicin acid along with Grapefruit, Hibiscus and Pineapple extracts is a brilliant body toner, leaving skin velvety smooth with visible firmness. 
Made with natural ingredients and essential oils such as Lavender and aromatic Eucalyptus oil, the range evokes heavenly scents that will bring you back to nature every time.  
Our Jericho Smoothing Scrub, range is ideal for those with Normal to Dry skin, as the formula gently removes the dead skin layers without any abrasive scratching of the skin. Some of the heavenly scents in the Smoothing range include Kiwi-Mango, Vicky Incredible, Orange Flowers and Pure Lilac. 
The Jericho Peeling Scrub range made with Dead Sea Minerals and natural oils is an energetic and effective range embracing natural scents such as Mango, floral Vicky Incredible and Orange Flowers. Gentle and reviving, the Jericho Peeling scrub range exfoliates the top layer of dead skin cells, nourishing and softening the skin as it goes.
Overall, the benefits of using Dead Sea salt and minerals on your skin are overwhelmingly positive. These include:
- reducing inflammation and redness in skin conditions like eczema, psoriasis, and acne;
- improving the appearance of sun damage on your face and body;
- enhancing the appearance of cellulite by reducing water retention in your body;
- improving the appearance of wrinkles by strengthening the skin's elasticity.
The Dead Sea contains 10x more salt than any other sea in the world, which makes it the standout resource for Dead Sea salt.  Another way you can use Dead Sea salt is a bath soak. Add some into your bath water before getting in for an extra relaxing experience, transporting you to the famous lake even for a micro me 'moment'.