How to Use a Facial Massager Roller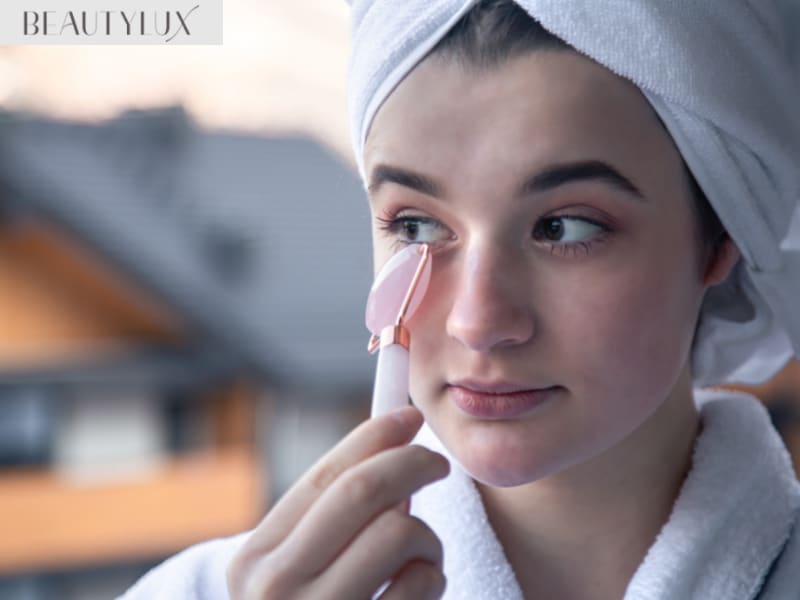 What's the hype around Facial Massage Rollers?
Face Roller benefits are endless! They are an apparatus that is used to massage the face. They give you a deep tissue massage and help with the circulation of blood in your face. It is a great tool to help you relax and enjoy the benefits of an at home facial-massage. With frequent use of a facial roller it can overall help your skin repair itself and allow it to rejuvenate and restore its natural elasticity. A Facial massage roller is also a great way to get rid of the tension in your face and neck. 
The Benefits of Rose Quartz 
Rose Quartz particularly is said to be a healing stone and works to reduce wrinkles and this cool stone will be able to reduce your stresses when you incorporate this particular stone into your routine. Although the type of stone does not really matter, a real rose quartz stone can offer a luxurious experience. At Beauty Lux we offer a premium Rose Quartz Facial Massage Set. That includes both a Gua Sha and a Face Roller.
A Step by Step Process of How to Use Your Facial Massage Set 
Start by applying an oil or serum onto your face. Make sure you are generous with the oil! This is important so your facial massage roller does not feel rough on your skin.  
We suggest using the Jericho Lifting Serum. This serum has a fast acting formula which works to increase the elasticity of your skin and give you a radiant glow! This serum combined with your facial massage set will give you a dream spa-like experience at home, leaving your face feeling luxurious and silky-young. 
Get your facial massage set out! Begin to press onto your skin and roll the Gua Sha or facial roller upwards. It is important to draw the stone upwards, this way it will stimulate lymphatic drainage and give you a facial lift! 

Areas that you want to target are;
Rolling from the chin to the jaw line

Cheekbone to ear

Rolling the stone from your brow upwards

Use the smaller stone to roll gently under your eyes in a vertical angle up to your cheek bone
The main message to remember is to always roll your facial massage roller upwards! 
We hope from reading this post that you have more of an idea on how to use your facial massage set! The Rose Quartz face roller benefits are endless and it will truly become a staple component of your skincare routine. Check out the video above to learn more about the facial massage roller!