Our Top Recommendations for Oily & Acne Prone Skin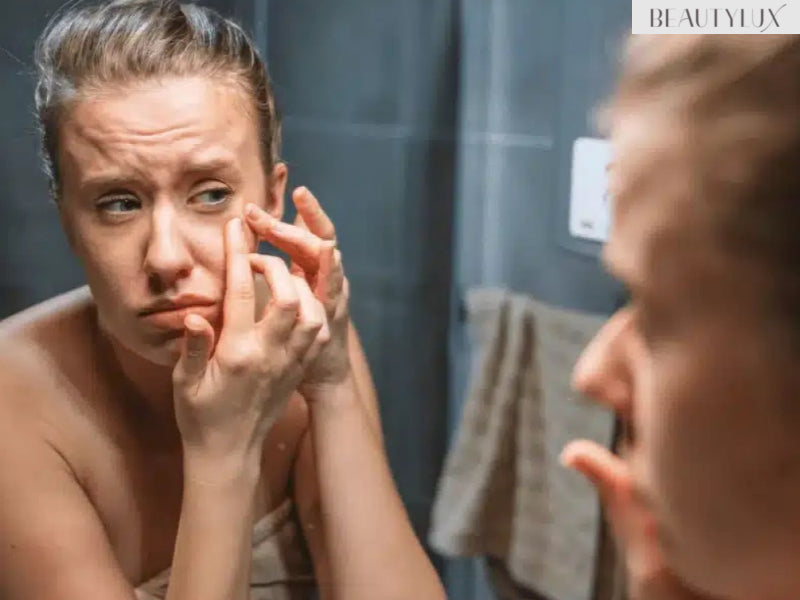 Zits tend to show up at the most inopportune moments and always wait until a big date, a significant event, or an important meeting to appear out of nowhere and attempt to ruin your confidence. Read on to learn about getting rid of blemishes so that you can be prepared next time.
Have a little bit of patience.
Before you take matters into your own hands and pop your zits or apply some form of spot treatment think about what type of blemish you have. It might be blackheads clogging your pores. They are pretty harmless but aesthetically unpleasant for most of us.
Or you might be suffering from a pustule type of blemishes like pimples or whiteheads caused by the infection. You might be very tempted to pop or worse scratch the heads of them. It's better to have a bit of patience and not pop a zit because it can lead to long-lasting damage like scarring or discoloration. It's best to use spot drying treatment on the white head, this will remove any residual infection.
We recommend to use Mon Platin Acne Drying Lotion, which contains not only zinc oxide, but is enriches with the dead sea minerals, which are well known for its ability to reduce inflammation and treat various skin conditions – from acne to stubborn psoriasis and eczema. It also contains a clove oil compound, called Eugenol, which is a perfect natural antiseptic and is widely used to treat acne and skin inflammations. 
Another type of blemish you may have is a cyst. What is a cyst? Cysts are caused by infection and stay embedded within the skin for a prolonged period of time. The body will absorb the infection eventually but it could take up to three weeks to dissipate. Cysts should never be picked despite how painful they may feel under the skin's surface. The best way of soothing a cyst is applying ice on the area for ten minutes every two to three hours, this will help reduce the swollen red area.
Cysts can sometimes be caused by dairy consumptions and if the blemishes appear on the chin or jaw area try cutting down your use of milk products.
The best way to keep blemishes at bay is by maintaining a consistent skincare regimen and being patient when you do get a breakout and not prematurely pick at it.
Here are some recommendations.
Add an exfoliating routine.
Once you have healed your blemish try minimizing the leftovers of said breakout with gentle exfoliation. We have quite few good products to recommend here.
Try Jericho's Foaming Facial Scrub which is perfect to keep in your rotation since its rich in Dead Sea minerals, Vitamin C and Chamomile extract which helps maintain healthy moisture levels in the skin.
Blemish Rescue Clear Complexion Replenishing Scrub contains powerful to remove excess oil and its fully natural and organic botanical blend of Gromwell Root, Liquorice Root, Aloe Vera and Calendula soothe and calm the skin.
If you feel that scrubbing or exfoliation with products containing hard particles is a bit too much for your skin to handle, definitely try Jericho Facial Peel. It's non-abrasive gel-like texture doesn't irritate or strip off the skin, while still providing thorough exfoliation.
Masks
A purifying mask is always a good buy. You can choose Mon Platin Facial Peeling Mask based on precious extracts of black caviar.
Alivio Hemp Naturals Spa Clay Mask combines both Kaolin and Bentonite clays along side with the best anti-acne ingredient – hemp seed oil.
Oil Free Moisturiser
To add more control to your blemish rescue routine, use oil-free based products to help you combat acne and reduce skin oiliness. Talia's Oil Free Day Moisturiser is a great choice. It's fully natural formula which contains zero nasties like Parabens, Synthetic Colours, SLS, Petrochemicals, Silicones, Phthalates melts into skin leaving it hydrated and shine free.
None of us are exempt from breakouts and blemishes, even when we are out of those tricky teenage years. For more mature skin we recommend Jericho Premium Oil Free Facial Cream, which is perfect for balancing the oil and breakout skin but also contains some powerful anti-aging ingredient.
A visit to a dermatologist or a beautician is always a great bonus, If for some reason you are not a frequent beauty-salon visitor, you can always add some beauty tools and skin care devices to help with deep cleansing of pores like a Microdermabrasion Set specially designed for home use, a good silicone cleansing brush and add Blue Light LED treatment which, working at wave length of 470nm, kills acne bacteria (Porphyrins) and minimises redness and irritation. Blue LED light also has a calming effect which is great for hypersensitive skin. Whether you opt-in for an LED Mask or a hand-held beauty device, both options are there to help ease the severity of acne and replenish the skin.
Sunscreen
It's important to use sunscreen daily as UV rays can cause scars to darker or appear redder in color. Add a good face sunscreen to your skincare routine and remember to reapply after 2hrs of sun exposure.